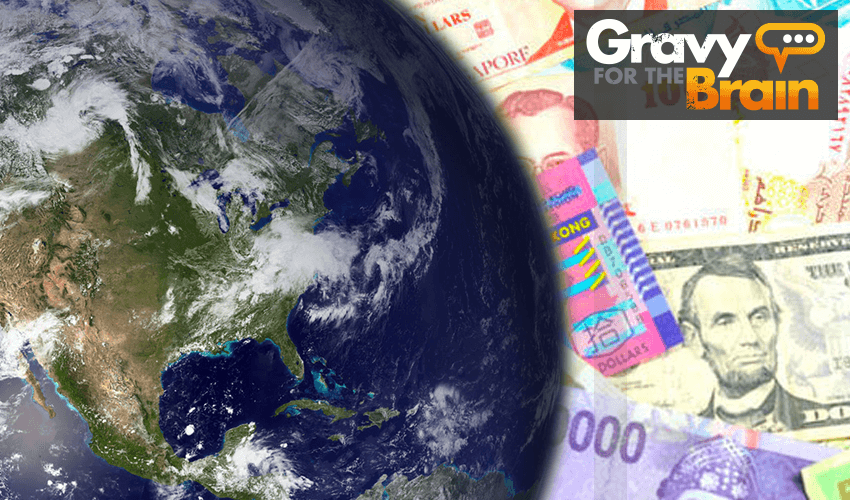 What is the future of voiceover rates? That's a very big question. It is in fact, the biggest question of our time. This blog post tackles that very subject and also what Gravy For The Brain is doing about it. We have exciting news…..and have potentially solved many of the industry rates issues.
The GFTB Rate Guide V2 is now live, and comes with many new concepts and new features.
But before we look at the V2 voiceover rate guide, let's look at what the actual problems of the industry are regarding voiceover rates.
1. What are the Problems with Voiceover Rates in the Industry?
Over the last half decade we have seen global voiceover rates spiral downwards in what has become known as the 'race to the bottom'. This has become a circular problem and in the main has been caused directly or indirectly by the advent of the Pay To Play (or subscription) sites, like Voices.com, Voice123, bodalgo, Mandy and so on.
(For a full list of all P2P sites, check out our very own V.O.I.D. – the Voiceover Internet Database which lists all voiceover companies, globally)
The main reasons that the P2P sites have caused this issue with voiceover rates and their degradation, are as follows:
The P2P sites have not educated the hirers with regard to the average rates that are charged for average voice jobs within the industry, nor have they educated them on why the rates are traditionally averaged as they have been; it's been left purely up to the hirers who use the sites to decide what they want to pay
The P2P sites have actively encouraged the voiceover artists applying for the jobs to engage in a 'bidding' process. It's a natural progression that VO's are motivated to 'bid lower' voiceover rates to be able to get the work.
As the industry has grown and expanded in recent years, the P2P sites have not educated the newer voice artists as to what normal/average voiceover rates are/were, and are presenting opportunities with much lower-than-normal pricing as good opportunities.
Many P2P sites are heavily weighted in favour of the hirer because without jobs they cannot sustain their main income, which is the subscription fees paid by the voice artists; there is the weighted temptation to offer cheaper and cheaper rates to hirers in a hope to attract their custom.
Some P2P sites are offering 'end-to-end' services to the hirers to cast and manage the process, so that the hirer doesn't have to get involved, and therefore taking a much larger portion of the hirer's budget in doing so than is paid to the voice artist doing the work-for-hire.
With that all said, we can't blame the P2P sites for everything! While they are a key component in the reasons for degradation of current voiceover rates, there are other factors at play:
The internet century is booming; there is an ever-increasing demand for content and part of that is voiceover. The vast majority of companies who did not traditionally use voiceover in their history simply do not know what 'normal' voiceover rates actually should be, and simply make guesses. We see here, again, a lack of education on voiceover rates.
Newer voiceover artists to the industry often feel the need to undercut prices of established and seasoned VO's because they don't feel that they are yet good enough to charge those 'perceived higher' rates. Although this is misguided, it's at least understandable – but again we see her a lack of education to the voice artists.
Our union's hands are often tied. In the UK, the Equity union does not feel that it has the power to show voiceover rates to the industry (in most genre's) for fear of litigation on price fixing. In the USA, Sag Aftra looks after it's own union rates but does not have a hand in non-union jobs, which is the majority of the work out there.
The demand for in-perpetuity buyouts has increased, as companies desire full ownership of their assets globally, usually on the advice of their legal teams. This has swiftly become the defacto position, and is mainly, again, due to a lack of education about how copyright and performance licensing works with content and media. This position started out a decade ago with higher up-front costs but no residual payments (also called Royalties), but in recent years has moved to the price being the same as it always was (and in some cases less), but still being listed as in-perpetuity, and therefore no residual payments.
….and thus, we have seen ever-decreasing rates of pay for voice jobs, globally. 
It's quite clear to most seasoned voiceover artists and industry professionals, that the race to the bottom on voiceover rates is simply not sustainable.
2. What's the Problem with Paying Low Rates? Isn't that just Capitalism?
To a certain extent, yes, all markets fluctuate, ebb and flow, and change according to supply and demand. The issue here is not that…. the issue is that hirers, and to some extent, new voices, don't know about or respect the fact that the voiceover industry is 100% B2B, or business-to-business as a model. We don't sell to individual people, we sell our services to businesses.
The realisation that brings is that we as voiceover artists are businesses. Whether we are a sole-trader or an incorporated company, we are solo entrepreneur, individualised businesses.
Here then is a list of what you have to pay in the day-to-day ongoing life as a business:
The rent or mortgage for your business premises.
Your business rates or tax for your business premises.
The hardware required to do the job (computers, audio interfaces, microphones, the booth, pop shields, cables and so on)
The software required to do the job (your DAW, your audio editor, your graphics packages, software subscriptions and so on)
Your business outreach – new business development
Your branding and marketing profile design
Your website build and ongoing hosting and maintenance
Your initial and ongoing training and education
Your annual accountancy bills
Investment in your demo reels to attract work
Investment in professional headshots to attract work
Subscriptions to Pay-to-Play sites
Your liability and indemnity insurance
Your electricity bills
Your heating bills
Your phone and internet bills
Your 'soft' office supplies – printer paper, ink, stationary etc
Provision for your vacation time where you are not earning
Your Tax & your VAT
Your National Insurance or Healthcare
….and all that is before you pay….the salary. 
Show that list to anyone who thinks that the life of a voiceover artist is easy, or that the life of a voiceover artist is a get-rich-quick scheme!
The problem is the same as the one faced by musicians, artists and actors the world over – hirers and inexperienced voice artists do not think about the costs of running a business, they simply see the end-product – they simply see £250 or $300 per hour as a ludicrous and extravagant fee. After all, it's only the voice, right???
The fact is that to run a successful business, you have to run it like successful businesses do, and that means charging accordingly to cover the costs of production and make a profit. Consider the list of outgoings and then consider working all your jobs for 50 bucks a time – you just can't feed your family that way….and this is why voiceover rates have existed the way they have been for decades before now.
3. What is Gravy For The Brain doing about it?
Most people know that Gravy For The Brain and GVAA already have rate guides, which are indicative of the average prices charged by most voiceover artists today. These guides have been instrumental in keeping the voiceover rates in the industry as stable as possible. But the fact is that although they were a good start, they haven't been good enough, and for a few good reasons.
Firstly, you have to know about the guides in the first place. Secondly, you have to know how to use them (neither was super-friendly to read!), and thirdly they are not used by the core-protagonists; the P2P sites and the hirers.
The original voiceover rates guides were a brilliant start, but it's time to move them forward, to enable true education and help further education of everyone who needs to be educated – from hirers to voices.
Ladies and gentlemen, I give you……The GFTB Voiceover Rate Guide V2
A) Problem 1 – Accessibility of Rates – Solved!
Up until this point the voiceover rates guide was flat HTML, i.e., all in one flat page. This made very difficult reading and wasn't at all user friendly.
Solution: The GFTB Rate Guide V2 has databased all the rates, and these are now searchable by Category and Genre. For example, you can search Television and then Narration, and hey presto! You're given your rate with it's notes and usage indications.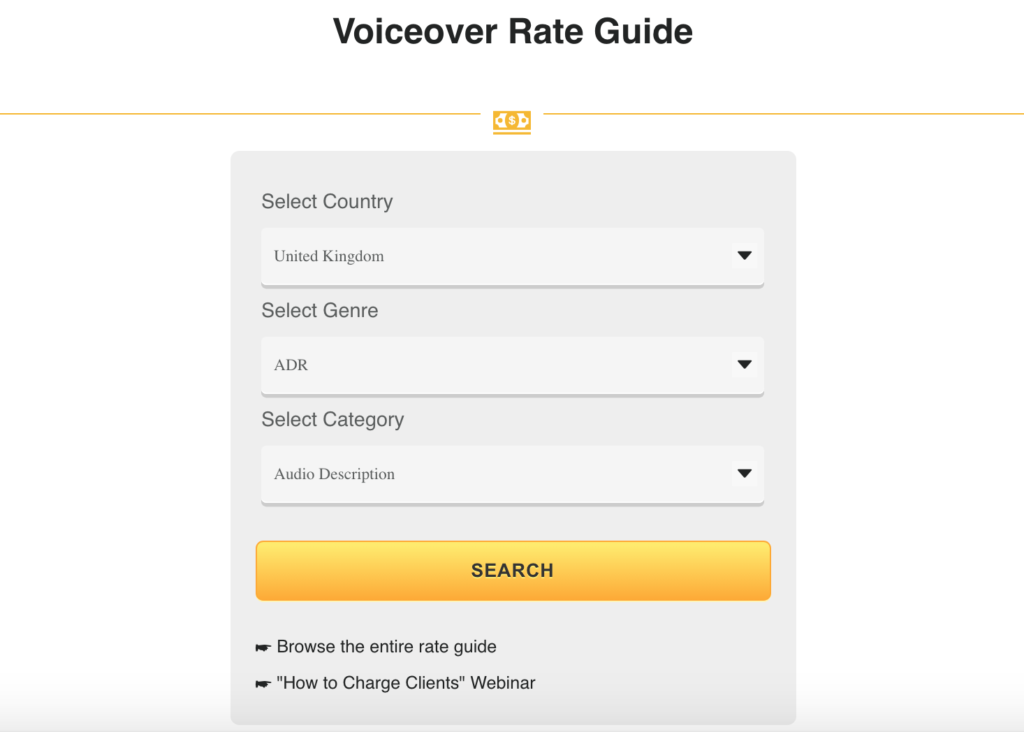 Then, up until this point, the guide wasn't really mobile friendly…
Solution: We've made the rate guide different for mobile, using the same database, and you can now access all the rates you need on mobile devices, in real time.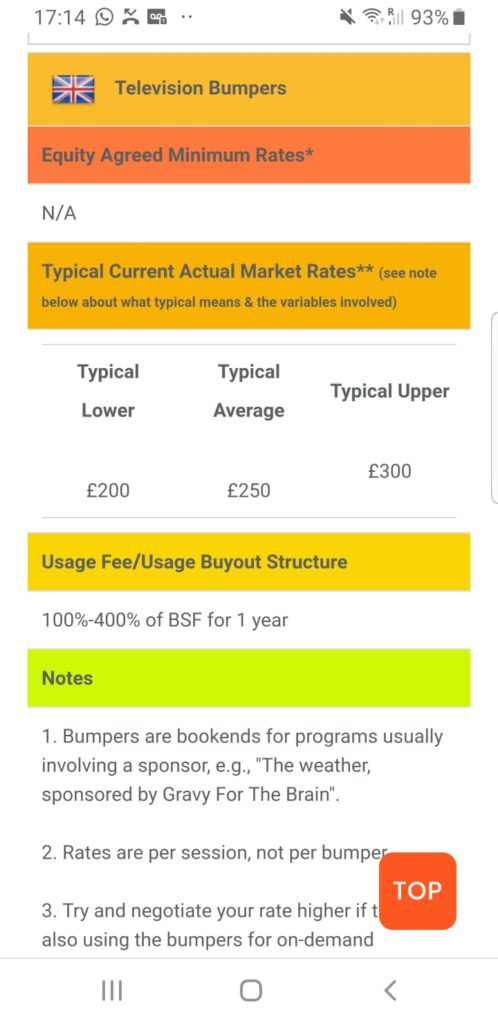 B) Problem 2 – Localisation of Global Rates – Solved!
The rate guide was previously only displaying rates from the United Kingdom and the USA. This is a huge issue. Rates are paid based on the country of the hiring party (or the country of use of the product), not the country of the voice artist.
Therefore…. we need to know what the local rates are on a per-country basis.
As you might know, with the launch of the Gravy For The Brain V5 application, GFTB is committed to moving into 30 global territories within the next 3 years. Each local territory site (e.g., Canada, France, Spain, Australia/New Zealand, USA, Egypt and so on) is fully localised into that territory's language and has specific and custom content built for that locale.
Solution: As each new GFTB territory comes online, we will be including the local rate guide for that territory in the global rate guide, selectable by country. This means that we will end up with the only truly global rate guide showing the world's localised voiceover rates in the world.
4. The brand-new 'Rates API'
Well we have solved quite a few issues already, but the astute among you will have noticed that up until this point, we haven't tackled the elephant in the room – the P2P sites. Yes the all singing, all dancing GFTB Rate Guide V2 is great for those people who want to look at it and get advice on rates….but what about the smaller companies around the world who don't really know much about the voiceover industry and just use the P2P's to get voice for their local projects? What about those who don't even know that there is such a thing as a rate guide?
Well, we've solved that issue too.
The final piece of the jigsaw that makes up the global voiceover rate guide V2 is….the 'Rates API'. 
What's an API I hear you ask? An API is a software protocol that allows one system to interrogate a remote system and, in this case, transfer data, live and in real-time.
The Rates API allows real-time access to individual rates within our rates database, and is specifically designed to be integrated into the P2P sites. The practical implication of this is that the P2P sites can now display live voiceover rates information to their hiring clients, and their voice talent.
How do we see this working? Well it's up to each individual P2P site to implement as they see fit, but here is our suggestion:
i) The Rates API – Educating the Hiring Clients:
At the point of creating a job on the P2P site, the hirer describes what kind of job (country, category, genre) it is, and immediately, through the Rates API, are shown the average price ranges for this type of job. The hirer doesn't necessarily have to abide by these guides, but they are educated nonetheless.
ii) The Rates API – Educating the Voice Artists:
The job is then passed to the voice artists, at which point the same live average rate ranges for this job are shown to the voice artists, along with the suggested fee given by the hiring client. The voice artist is then educated on what the price range could be, and can then make an educated decision on whether to accept and audition for the job, or to pass, and perhaps send feedback to the hiring client.
5. How Much Does The Voiceover Rate Guide V2 and the Rates API cost?
So here's the best thing of all – it's completely locked down, secure, ultra-fast (it actually sits on it's own unique server dedicated to doing nothing but display rates)…..and how much will we be charging for this service?
Nothing. It's completely free of charge. 
The rate guide V2 and the Rates API are completely free because we believe that this is the most important problem to solve of our time.
It's in everyone's interest to have a centralised reference point for averages of rates generally charged by people in the voice industry today.
6. Ok, but are the P2P Sites Actually Going to Use the Rates API?
It's a good question – and here's some more good news for you. At the time of going to press with this article we have agreement from 4 of the major global P2P sites to use the Rates API in their system.
It's important to understand that this actually benefits the P2P sites themselves for a few reasons. Not only do they not have to maintain their own rate system, and not only can they implement this in whatever manner they chose specific to their platform, but the P2P sites now get to disassociate themselves with responsibility for voiceover rates.
The P2P sites are always being criticised as being the gatekeepers for quality, and low-balling rates within their platforms, but now with the inclusion of the Rates API, can benefit from the good PR associated with finally educating both their hiring clients and their newer voice artists.
7. Our Vision for the Future
It's fair to say that the voiceover industry is undergoing a huge state of change. Although I do always argue that the only constant is change, the industry is changing more now and at a faster rate than at any time in it's history.
If we don't act now to stabilise the voiceover rates downward spiral, there is a good chance that there may not be a voiceover industry as we know it in the future. I am, perhaps being a little overly-dramatic in saying that, but voiceover rates are the hot topic in our industry. An industry with half the average pricing we have now for example, is unlikely to be sustainable, especially when we think of the old quality triangle – Price, vs, Quality, vs Time. Something will have to give at some point if we don't act to save the industry, as an industry.
We are in a privileged position at GFTB to be able to do something about it, and the Global Rate Guide V2, coupled with the Rates API is our answer to the problem. 
The four P2P sites (we will release their names soon!) that have so far agreed to implement the Rates API are forward-thinking, motivated in the same way we are and do want to help the industry – after all, it's in their benefit as well. I would encourage you to publicly applaud those sites who integrate the Rates API into their platforms…..and put public pressure on those who do not, to integrate it. 
I would also encourage you to share this article as far and wide as you can, so that we can help educate as many people as we can, that there is a potential solution and that there is a potential end to the spiral.
As we say at the start of the One Voice Awards…..alone we are many voices, but together, we are one voice.
It's up to us…….
[Written at the VO Euro Retreat, Barcelona, May 2019, by Hugh Edwards]