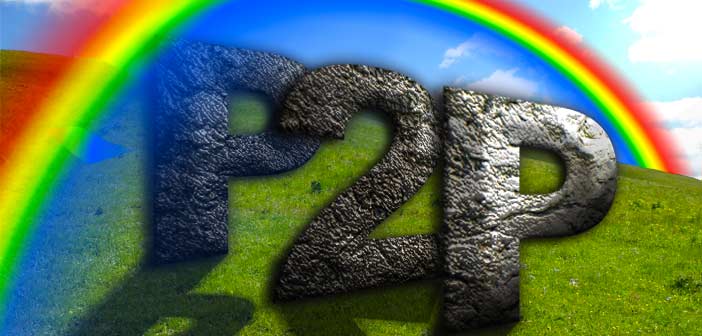 Voiceover sites, pay-to-play sites and subscription sites are a great place to help build your voiceover career. Pay-to-play sites are also increasingly popular for businesses of all sizes who are looking for voiceover actors.
Here is the a brief overview of the key sections in this blog post:
In this post, we will take a look at what are the top pay-to-play (subscription) voiceover sites, how to use them and how to get more work. The first thing to realise is that voice subscription casting websites, or talent sites, require a different approach to working offline.
The Difference Between Online and Offline Casting
Working online requires a different mindset and set of skills to get the most out of it. It is easy to dismiss the opportunities or listen to people that have not had success online – really, there are plenty of them! Having cast literally thousands of roles in the last 5 years on subscription voiceover sites, I can tell you the reason voices don't get work is that they do not know how to approach online (bespoke-clip-based) casting.
This course will show you how to improve your casting chances.
I've conducted several webinars on the subject which can be found here.
Furthermore, the chances are, they have not approached online casting in a focused and disciplined way or taken the time to develop their profile. Online, more than face-to-face casting depends on you being focused and disciplined and working out what is required from you – you can't see the whites of people's eyes when you're recording, so you get no direct and instant feedback.
With the old-style face-to-face casting, you can demonstrate your skills, adapt to any feedback and instantly establish your personality. With online casting, you have to deliver an immediate impact using a few words, a picture and your demo reels…and that's before we even get to bespoke clip-based casting I mentioned before.
What's the difference I hear you ask? Ok let me break it down for you and define the terms:
Face-to-Face Casting: This is the old-style version of casting, traditionally used by actors in film, television and theatre, where you physically attend a casting session. Us casting directors do use these for VO from time to time, but there is a cost associated with it, so it's rare nowadays.
Showreel/Demo Reel Casting: This is the traditional method of voiceover casting which is still employed by most voiceover agents today and involves the VO Artist creating a professional and produced reel (either a generic reel or a focused reel such as a gaming reel), which is sent out to potential clients as a demonstration of their abilities.
Online Casting: This is the new style of casting employed by subscription voiceover sites and online voice websites, where the voice artist creates a profile, usually with a photo, some examples of work, a biography and some highlights from their voice CV. Pay-to-play/subscription sites also partially use this method. Clients can browse your profile and send you a message – the onus then is on the casting director to search and manually find you as a voice artist themselves.
Bespoke Clip-Based Casting: Usually a follow on from (or in conjunction with) Online Casting, where a hirer/client sends out a request for specific (bespoke) demo recordings of a job in mind – the voice artist records the requested material and sends it back for evaluation and potential shortlisting by the casting director.
If you are going to start using online voiceover sites, you can't be half-hearted about it. You have to commit for the long term. Think about it in a similar way to getting fit – one run won't get you fit. You need to set realistic goals and milestones, produce a training plan and exercise week after week to get results.
You also need to learn how to cast using Bespoke Clip-Based Casting techniques because the vast majority of voice artists don't know how to do this properly and waste large amounts of their time casting incorrectly or inappropriately for P2P voice work. The sad fact is that they end up going straight into the trash….and that's regardless of how many previous castings they've done, or how good a voice artist they actually are.
"I have hundreds and hundreds of auditions under my belt but Hugh brought up a number of points that I flat-out didn't realise, wasn't sure about or heard differing opinions on, and that alone made the training worthwhile. I intend to put those ideas to work during my next audition. Thanks!"

…feedback from one of our Bespoke Casting Webinars from an established VO who'd been getting less than perfect results with his auditions.
The reality is you're going to have to deal with rejection because it is a competitive marketplace. However, if you follow my advice, you will stand a much better chance of getting work.
So let's be realistic; it takes time and effort to see consistent results. Even if you eat less and exercise like a madman for a week, you still aren't going to lose that much weight or improve your overall fitness. Like getting fit or dieting, you have to continue even if you don't see immediate results. Like losing weight, gaining traction with your voiceover career takes time.
It is easy to convince yourself that everyone else is better than you, there isn't any point in getting started and all the work goes to the experienced professionals. The truth is that many beginners have cut their teeth using these sites, gained regular work and gone onto to build very successful voiceover careers. It's also fair to say that it's a completely new genre and in many cases the old-guard have been caught off guard and aren't as aware of how to cast on these sites as the newbies.
You can achieve success on these sites. It just takes the right approach.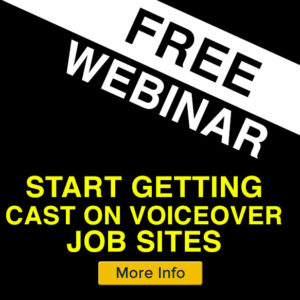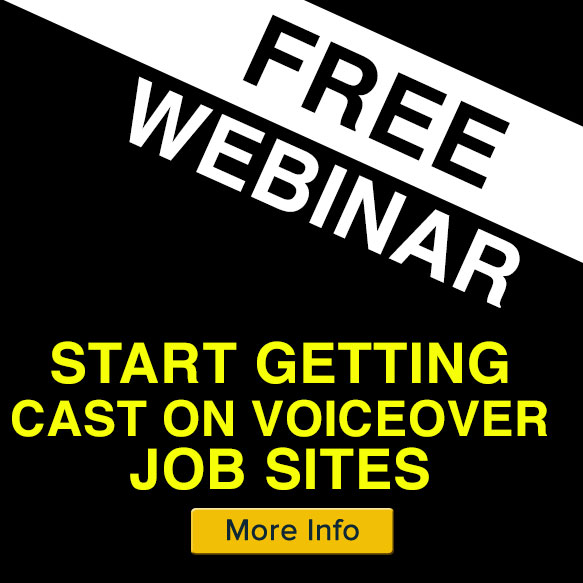 It's okay to watch instead of read! That's what our webinar is for!
List of Voiceover Sites, P2P Sites and Subscription Sites
These are the main voiceover sites that people in the voiceover industry use (in no particular order of preference, fees, ranking or amount of work available):
Standard Voiceover Job Sites:
#1 – Voice123.com – Global
#2 – Bodalgo – Global
#3 – Voices.com – Global (and expanding) – arguably the biggest player in the market currently.
#4 – Voices Pro / Mandy – Global
#5 – VoiceBunny – Global
#6 – TheVoiceRealm – UK & US-based
#7 – Voiceovers.co.uk – UK Based
#8 – Elance – Not strictly a P2P site but you can get VO work from it
#9 – Voice Jockeys – Global
#10 – Voiceover.Biz
#11 – VoicesUK and VoicesUS – Sister P2P voiceover sites on each side of the pond
#12 – Upwork – Not strictly a P2P site but you can get VO work from it
Budget (low fee) sites:
#13 – Cheap Voiceover Biz – Global
#14 – Fiverr – Not strictly a P2P site but lots of VO work happens here
#15 – Cheap Voiceover Talent
What you need to remember is that each site is slightly different. Some have developed their own algorithm to keep too many people from responding to job leads (supposedly to keep from overwhelming the clients). Some require voice talents to quote their rate and the website automatically keeps approximately 10% when the customer gets paid, on top of their annual fee, and so on. Some are straight voice-to-client relationships. Some include a 'Managed Service' section to the job where the site staff will perform the casting for the clients on their behalf.
Every pay to play site also markets itself differently. That is critical to who searches for and uses these voiceover sites to source talent.
The Pros and Cons of Voiceover Talent Websites
Pros of Voiceover Subscription Voiceover Sites
They are easy to use and to register for work.
Large numbers of businesses use voiceover talent websites.
Casting calls involve no commute or expense.
It is easy to say no to auditions.
The pay varies in value between $75 and $2,500 per job if booked.
You can get an average of 10 to 20 auditions a week.
The average booking ratio from auditions is 1 in 100 from these voiceover sites – this creates a huge opportunity to stand out above the crowd if you know how to cast custom demo's properly.
These voiceover sites offer opportunities from across the country and around the world.
Getting even a few low-paying projects when you're first starting out helps to gain confidence and build your credentials/CV.
Pay to play voiceover sites offer the opportunity to build repeat business with various clients as you become their vocal brand.
You have opportunities to gain experience.
It's easy to get work if you're good at Bespoke Clip-Based Casting (aka Custom Demo's in the USA)
Cons of Voiceover Subscription Voiceover Sites
You're often forced to assess your rate quickly (often low) or accept the posted rate for the job.

Voiceover agents, producers, and casting directors typically determine (and legitimise) what voiceover actors get paid.

These sites often offer low rates compared to agency projects.
How well you suit a client's needs is dependent on how well you complete your profile & perform your bespoke clip-based casting / custom demos.
Some voiceover actors rely solely on these voiceover sites rather than branching out.
Some P2P sites place arbitrary demands and restrictions on talent for "auditioning too much".
Some voiceover actors tend to promise more than they are able to deliver with some jobs, leading to undercutting and over-competing in the industry.

Voiceover actors sometimes don't have the experience or expertise to determine appropriate practices and negotiate agreements without talent agents. You are left to your own devices here.
The Top Tips for Using P2P Voiceover Sites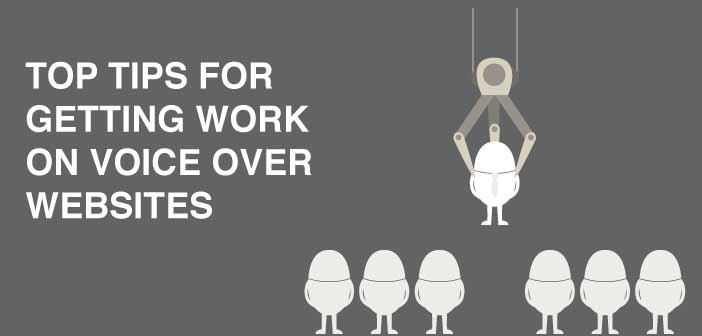 Based on our definitions of how casting directors work, we know that they will do one of two things:
#1 – Search the talent roster, listen to demos and contact their preferred talents.
#2 – List their project on the website and wait for voice talents to respond.
…So in order to cover all bases and always make a good impression make sure you follow these tips:
Respond to jobs quickly. Don't take longer than 24 hours – don't be at the bottom of the pile.
Always slate your work unless your P2P site says you can't. This is a bit of a sycophantic trait of P2P voiceover sites – essentially they don't want the client to be able to go to you directly. In my opinion, this just means that they've got their model wrong, but there you go.
Always put your best work first: Clients listening to demos will usually only listen to the first few seconds of a demo or audition. They will only continue if the voice interests them…only then they will listen longer.
Always file-label your work correctly, i.e., "Hugh Edwards – XXX Demo.mp3". Give them a clip labelled Recording00001.mp3 and you will never be found again once your file is saved on their hard drive and want to search for you amid the other 100 clips they have.
Track your P2P site enrolments. Always make sure that you are consistent in your branding and approach across different P2P sites you're enrolled in.
Never use anything other than MP3 unless specified to. No, M4A (apple/iPhone) files rarely work on Windows machines, and no, whatever file-type you currently love (oggs etc) is not the best – MP3 is the global standard, and Wav/Aif's although high-quality Wavs are typically too large.
Always, always, always follow the casting directors instructions. This goes for delivery style to delivery method – if she wants it delivered via WeTransfer, then deliver it by WeTransfer, not dropbox etc.
Never give the client a reason to think negatively of you – essentially, see points 1-5.
Always try and show your range and give alternate reads, rather than just one.
Always make sure your alternate reads are actually alternative options and not the same!!
Make sure your online profile is brilliant and always up to date. I'll go into detail about this in the next section.
Follow the above rules to the letter. There is a little group of us casting directors and we all know each other – we've discussed these points many a time – it's so easy to get it right and very easy to get it wrong!
How To Optimise Your Profile on P2P Voiceover Sites
Most pay to play websites work in a similar way. You have to select your type of voice, experience level, upload a demo and fill in your profile – a description of yourself. You also have to choose what kind of voiceover work you are hoping to do.
The obvious thing to do is be truthful – if you get caught out lying it could damage your career. Many voiceover sites use drop-down fields to populate a selection and so you cannot optimise these; you just need to ensure that they are accurate and reflect your voice talent capabilities.
The two main areas where you can demonstrate your personality and unique skills are:
#1. Your Personal Description
#2. Your Showreel
Let's look at these each in detail:
#1 – Your Description
You need to use high-quality copy that not only describes you but sets you apart. You also need to ensure your description focuses on the keywords that relate to your specific niche in the voiceover industry.
In reviewing some voiceover profiles on these voiceover sites, many simply try to be generalists, that is they either don't say clearly and simply what they are good at, or they try to cover too many specialist skills. Saying you are good at all types of voiceover will result in you being overlooked and placed in the mix with everyone rather than at the top of a specific niche…. and if you have little experience it just doesn't make sense. Try to specialise and recognise how your voice fits the market.
Put across your personality and what makes you unique. Creative ideas often set you apart.
Most importantly: you must realise that a text description of a voiceover artist is a misnomer in the first place. You as a voice artist are described by your voice, your abilities and your professionalism. So don't do what the voice agents do and write descriptions that are complete and utter guff, for example, "Smooth, sophisticated and street-wise", or "Trendy, New York and sassy", which mean nothing at all, and which describe your voice about as well as a plate of turds does. Instead, write things that are meaningful, for example:
Male, voice age range 20-35, perfect Hispanic & UK English accents, native of Zimbabwe and graduate of the Royal College of Dramatic Arts, excellent at character work and flawless narrative style.
…which although fictional, instantly tells the reader so much more and….it's all just factual.
Lastly, break your copy into easy to digest paragraphs and use bullet points to emphasise your list of experience, skills and strength.
#2 – Your Showreel
Producing a professional showreel is quite a big subject. If you want to learn how to produce work-winning showreels, I suggest you take the Gravy For The Brain course – Creating Amazing Demo Reels. It can save you loads of time in finding out how to optimise your showreel and you will learn the tips and tricks that voiceover professionals use.
It's worth noting here though that gone are the days where you could rely on a generic voice reel. These are very rarely used nowadays and the real money goes into targetted voice reels. For example, gaming reels, narrative reels, dramatic reels, audiobook reels, commercial reels, voice of God reels and so on.
Get a professional reel done. Although we do create pro reels for people, this is no upsell; the amount of amazing reels from your competitors on the market is on the increase and you don't want to be left behind. This isn't to say that you need to pay someone to do it if you have the skills…but it has to sound pro….it's your shop window, your only point-of-sale and possibly the last time the casting director will think of you before moving on to the next voice.
Hirers….are mouse-click happy……
How To Get More Consistent Work
Once you get your first few pieces of work – which you will…stick with it – make sure you follow up with clients in a courteous way and explore if there are other areas of work you can help develop. If you are creative, you could come up with examples of how they could develop their media/projects or work to build their business. If you're on a site where you can't get their contact details, get them on the directed session, or after the event.
Follow up with them…
Often simple things like sending a hand written thank you letter can make a big impact. It shows that you have made a genuine effort.
Don't just set and forget your profile. If it isn't working or getting you work, have an industry professional review it for you.
Don't forget to build out your 'brand' profile across other media e.g. Twitter, Facebook, Linkedin so that you look consistent and professional. Consistently research your sector of the industry so you can talk fluently to clients about the industry and stay relevant.
In Conclusion – Should You Use P2P Voiceover Sites?
Yes. Yes, you should.
However, I will give that very definite answer a very definite caveat. You should only use P2P sites if you are fully willing to get on board with learning how to perform Bespoke Clip-Based Casting / Custom Demos properly, and work on your profile regularly. If you become a master at BCBC/Custom Demos, it's very, very easy to get a lot of work on the subscription voiceover sites as you set yourself way above the masses instantly.
That…and being a great voiceover artist of course…but that's a different blog!