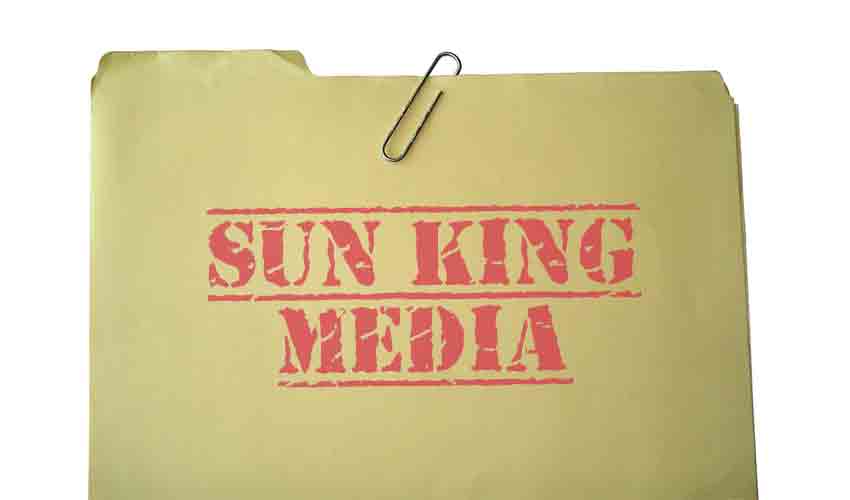 10 years ago, BBC's Inside Out exposed Carl Mould of running a scam business called Broadcast Support, which falsely promised its customers that it could make them TV presenters.
5 years later, Carl Mould was jailed for conning pensioners out of thousands, selling nonexistent mobility aids.
Last month, BBC's Inside Out once again uncovered a scam business called Sun King Media, which offered novice voice actors the chance to break into the business. But this time, it was a man named Edward C Harwell who was at the head of the venture.
Sun King Media: New Name, Same Scam
Much like all of his past activities, Carl Mould's latest venture was the same scam, but with a new coat of paint. Targeting primarily elderly and retired individuals, Carl would promise them a shot of easy money, with the only requirements being a small down payment and his help to make their wildest dreams come true.
This time around, Carl also turned the paint on himself, renovating his identity into the alias of Edward C Harwell after his original name started to carry too much heat. But like his previous deceptions, Edward Harwell was the same old story and for the past 18 months, Edward continued to cheat budding voice actors out of an estimated £100,000.
The con was simple. Operating under his new production company Sun King Media, located in the respectable Custard Factory district of Birmingham, Edward offered free assessments for any voice actors who wanted to break into the industry, primarily focusing on audiobooks. These free assessments would then be used as an opportunity for Edward to talk up his business and the contracts he had, leaving the actual assessment of his mark until the very end of the meeting.
For the majority of their time, Edward would show his customers his extensive Youtube library, filled with other voice actors he'd "worked" with in the past. Customer recommendations would be shown as proof of his success in the market, which would be quickly followed by invoices supposedly from Amazon, revealing that Edward was making up to $11,000 a month through his audiobook work alone.
By the time the customer came to do their assessment; the fancy office, the positive recommendations and the big money had worked their magic and most were quickly won over by what Sun King Media could do for their career.
But the office was for show, the invoices had been drawn up by Edward himself and the recommendations were brought from Fivesquid.com for as cheap as £10 – £20 apiece, with the express condition that they would be clearly labelled as a paid promotion. Of course, they were never labelled as anything but genuine.
The Unfortunate Customers of Sun King Media
Edward tricked dozens of victims over his 18-month spree. Among them were David Taylor, a retired prison service worker and Andrew Perry-McAlpine, a retired deputy headmaster. David had given around £1,500 for Sun King Media's services, whilst Andrew had handed over £2,700. But regardless of the cost, the outcome was always the same.
Customers would usually receive a home studio, comprised of just a cardboard box filled with foam. As part of their home recording studio set, a cheap microphone would also be thrown in. And on top of that, customers would also receive their "premium" demo reel recording, which would be uploaded to several free hosting sites, where they would remain mostly ignored due to their poor quality.
After that, Sun King Media would go quiet and no work would ever follow.
In March 2018, a BBC Inside Out investigation led by journalist Simon Hare once again tracked Edward Harwell down, confronting him about his assumed identity and the victims he'd left in his wake. In the past month, the Custard Factory revoked the lease of Sun King Media's offices after having been alerted to their activities. Edward Harwell has told Inside Out that if any of his customers are unhappy, then he's happy for them to come and get their recording redone. But with no office base and no hint of refunds, it is unlikely that any of Edward's customers are likely to take him up on that offer.
A Warning To New Voice Artists – What To Look For!
Establishing yourself as a voice artist takes a lot of time and with that comes an impatience for success, and scam artists love nothing more than promising a quick shortcut to success. Edward C Harwell, or Carl Mould, may have been caught again this time, but there is an endless supply of people like him who are more than happy to rip off voice artists who are new to the industry and looking for any way to break in.
It could even just be a matter of time before Edward is back himself running the same scam under a new company or a new name altogether.
As a newcomer to the voiceover industry, you should be aware of scams like this. If you're smart about the decisions you make, take your time and are sceptical, then you should be alright. But it's human nature to make mistakes and while we can't protect you from every scam there is, we want to give you our 3 best tips for how to avoid costing yourself a potential fortune.
1 – If it sounds too good to be true, then it is!
It's a simple piece of advice, but it's the heart of any scam. No one becomes a professional voice artist overnight and even less of them go on to make the thousands of pounds a month that is frequently promised by scammers. Always keep your expectations realistic, remember that things will take time and if someone promises you quick success that sounds too good to be true, then it simply is.
2 – You can do a surprising amount by yourself!
When you become a voiceover, you have to learn a lot of skills, not only to perfect your own vocal abilities but also to improve your technical prowess. Working from your own home is a big part of being a voiceover and this entails the need for a high-quality microphone and an acoustically isolated area to record your starting demo reels.
And then beyond that, you also need to quickly develop an understanding of where you need to start promoting yourself to secure your first jobs.
Even though it seems daunting, the fact of the matter is that by becoming a voiceover you're not just setting out to get work with your voice. Being a voiceover requires you to be the whole package, so it's integral that you learn all these numerous skills to succeed. You can't just pay someone to do them all for you, and the reality is that once you start teaching yourself these things, you'll actually be surprised by how quickly you pick them up.
You often don't need someone to do all the legwork when it comes to your starting demo reels and if you do pay to use a professional studio, it should never be more than a few hundred pounds, and certainly nowhere near the thousand pound price tags that many scam artists claim it is. You can avoid much of the heartache from scams simply by standing on your own two feet and learning the skills you need to be a voiceover. And when it comes to the point where you do need help, then that leads us gracefully onto our final pointer…
3 – There's a whole voiceover community out there to help you out!
Although stepping into the world of voiceover may seem like a scary venture, the voiceover community is filled with loads of friendly individuals who love exchanging helpful advice. Every one of us remembers what it was like to start out and we all love to make it as simple as possible for anyone who wants to get started. It's a great idea to join a voiceover group and use social media as a way to network and make connections. But an additional pro is that if you smell something off, then all you have to do is ask your newfound group for help and you'll quickly work out if it's a scam, usually because everyone knows it's a scam or no one has ever heard of it before.
Stay Safe And Happy Voicing!
The Sun King Media debacle shows just how easy it is to be taken in by a con and the repeated offences demonstrated by Edward C Harwell or Carl Mould, or whatever his next name will be, show that the people behind them are extremely cunning and remorseless.
But with healthy scepticism, the drive to succeed by yourself and with the support network of the incredible voiceover community, you can avoid the primary go-to tricks employed by a majority of scam artists.
As of now, there has been no further action from either the police or trading standards doing anything regarding Carl Mould and Sun King Media. Some complainants are waiting to hear back from Action Fraud, but for now, scam artists like Carl Mould are still active and could strike at any moment.
We'll leave you with our last piece of advice, which is simply to stay safe out there and have the belief in yourself to make your voiceover goals become a reality, without the help of preying scammers.