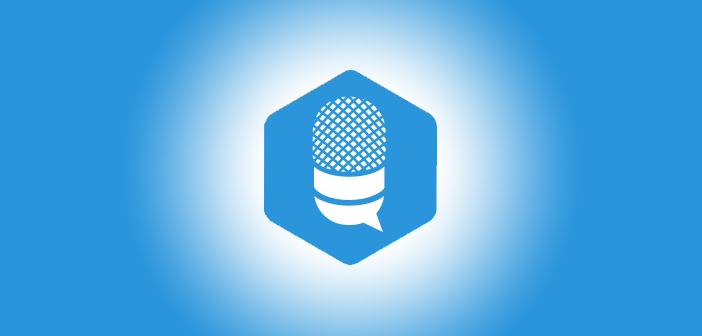 If you use pay-to-play site 'Voice123' you might be interested to read this blog by co-founder Alexander Torrenegra. He gives a great, personal account of how he and his wife Tania developed Voice123 and basically changed the voiceover industry.
Alexander's story
The year was 2002.
Tania and I had recently married and moved to New York City. Tania was working at Banana Republic as a sales associate. I was freelancing as a "webmaster" and online marketing consultant for multiple clients.
I was working from our 35 square meter (380 square foot) studio in Flushing, Queens near the last stop on the line 7 subway route. The studio was so small that we used to joke that for the sun to get in, we had to get out.
Tania wanted to become a professional voice actress and provide her voice to radio, TV, video games, etc. Excited at first, we quickly realized how complicated the casting process was for aspiring voice actors. 
The Old Casting System
We learned that most companies in need of a professional voice had to jump through many hoops to get there.
First, they had to go through a casting director. The casting director would then contact multiple talent agents. From there, the agents would contact several voice actors and ask them to go to a designated auditioning studio. The studio would send the audition back to the agent. Agents would filter out the best auditions and send them to the casting director. The casting director would also filter the auditions and send them to the buyer. If the buyer liked one of the auditions, they would then book a professional recording studio. All parties involved would meet in person for the recording session.
If everything went according to plan, the client would then send the payment to yet another party called a "paymaster". The paymaster would keep a portion of the money and distribute the rest to all the parties involved, including the actors' union. We quickly realized that a system like this, with so many middlemen, was both inefficient and prone to abuse.
In fact, a so-called talent agent charged Tania almost one thousand dollars for a photo shoot to promote her. Apparently, being beautiful was a prerequisite for being a professional voice actor! The agent disappeared with the deposit and never delivered. We were devastated, and even worse, we were out a thousand dollars when times were tough.
A Better Way?
Tania and I came to the realization that high-speed Internet could enable a website with simple algorithms to fully automate and replace the work of the middlemen.
We envisioned a global marketplace that could quickly connect voice actors with potential buyers while giving a fair chance to all aspiring and established voice actors to grow their professional careers.
The idea seemed so obvious to us, but we were concerned with the fact that nobody else had already done it.
Were we crazy?
Were we missing part of the picture?
Was it wishful thinking?
We didn't know, and we thought there was only one way to find out: executing the idea. But how?
A Passion For Innovation
I should now disclose that my passion is not entrepreneurship. My passion is tech innovation. If I had better mentors when I was younger, I would have executed on my passion in a much different way. I probably would have been a scientist or software architect instead of an entrepreneur.
For this reason, I seldom care about the business viability of an idea if it is technologically intriguing. In the case of Voice123, we didn't even think about how such a marketplace could make money. Nevertheless, Tania and I decided to move forward with the plan.
Getting Started
In January of 2003, we started working on the idea.
While I coded the website, Tania started compiling a list of email addresses of voice actors, one at a time, who we would invite to join the marketplace as soon as the website was ready.
I worked diligently nights and weekends. Tania worked on it whenever her crazy shifts at Banana Republic allowed some free time. Each of us worked between 40 and 50 hours per week at our "day jobs", and 20 to 30 hours on our idea.
To speed up the process, we hired my best friend from college, Andres Herrera, to help with the coding on a part-time basis. Given that he lived in Bogotá, Colombia, and that the Colombian peso was depreciated at the time, we could afford his fees.
Still, we had to save the little money we could, as we were going to have to pay for hosting and, hopefully, some marketing. We got used to enjoying Korean kimchi, popular in our neighborhood, alongside vegetarian sushi rolls that cost only two bucks a pop. Out of necessity we learned to eat spicy food since we didn't want to spend too much time and money going somewhere further away.
Coping With The Strain
We were extremely passionate about the idea, but such passion brought stress and a lack of exercise. To cope with both, Tania went to meditational yoga classes nearby. Unfortunately, it didn't work for me. I couldn't relax my mind. Turning off my thoughts was a formidable challenge. My mind was always drifting to our idea and the different features and components that the website would need. The few times I was actually able to relax my brain, I would find myself being nudged awake by others because I had fallen asleep on the floor and the class had already ended.
Voice123 Was Born
On June 13th of 2003, five months into the project, we launched the website. We called it Voice123. Tania had collected over ten thousand email addresses and we started emailing all of them. We expected a 10% conversion rate.
To our surprise, the conversion rate was twice that. Voice actors loved the idea. We quickly had thousands of voice actors ready to be matched to clients.
Just a few days later on June 16th, we started running pay-per-click ads. At that time, they were a relatively new concept. Just a few hours later, we had a buyer submit the very first job posting on Voice123. We jumped and hugged and laughed out of happiness. The pieces were starting to fall into place.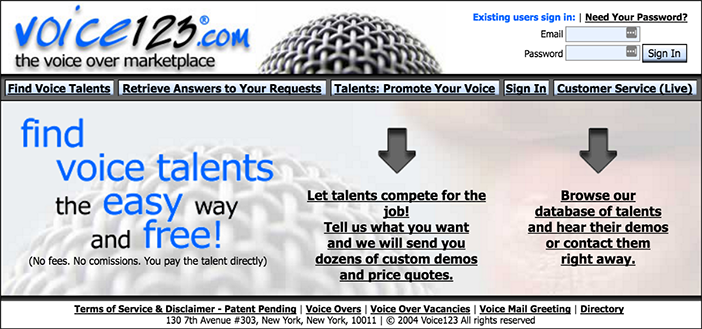 Only three months in, we had a functional marketplace. Every day we were connecting buyers with voice actors. There was one major problem, though: the service was free.
We were losing money paying for the hosting and marketing expenses. Most entrepreneurs I know today would have raised capital to fuel the growth of the business. Tania and I had never heard of the term "angel investor". We had no idea that there were people willing to give us their money to experiment with our crazy ideas. Ignorance is bliss and hindsight is always 20/20.
Refining The Voice123 Model
We were forced to figure out a sustainable business model for Voice123. After plenty of hesitation, we decided to charge voice actors a yearly subscription fee to get early access to job postings. We avoided being commission-driven because we didn't want to be in the middle of the transactions between clients and voice actors. We wanted to keep it simple.
The idea, however, was quite controversial. Some voice actors didn't like it. Hate mail started to arrive. They feared that we were going to rip them off. To give them peace of mind, we added a 100% satisfaction guarantee. The voice actors would be able to cancel their subscription at any time and be refunded.
It worked. We started offering the "Premium" subscriptions in early September. By the end of the month, we had over $3,000 in revenue. The next month, Tania quit Banana Republic to become the full-time CEO of Voice123. That January, as revenue continued to increase, we hired our first full-time team members. They were all based in Bogotá.
How Voice123 Looks Now
Today, Voice123 is the world's largest and most popular marketplace for voice acting. Over 200,000 voice actors are registered in our database, and we have processed millions of auditions. Thousands of artists have grown and started their careers in over 100 countries. We have connected them with clients of all sizes, including huge ones such as Pixar, History Channel, Electronic Arts, and Pandora.
The crazy idea that Tania and I had ended up changing the voice over industry.
And this is just the beginning. Today Voice123 is a part of Torre, our newest venture. At Torre, we wonder how the future of humankind will look when algorithms are constantly seeking out the best minds for all endeavors while simultaneously finding the best opportunities for each mind.
We dream of the day when all humans, all 7 billion of them, regardless of their location or socioeconomic background, will be able to participate in the global market and make their work fulfilling. That's the future we envision for the next iteration of Voice123.