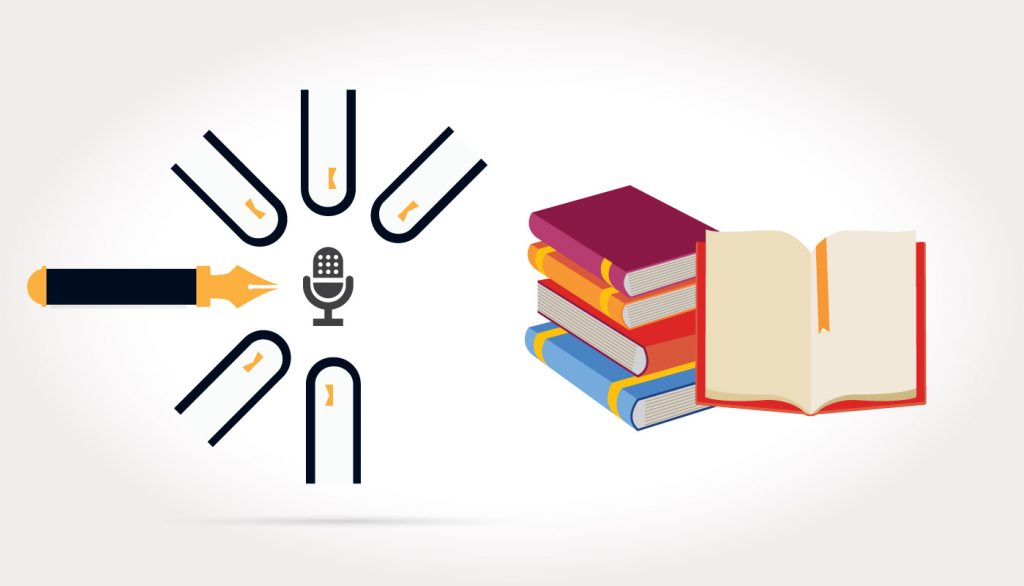 These 9 voice acting books have nothing to do with voice acting, but they will definitely help you develop your voiceover career. As a bonus I have included a list of useful voiceover books at the end of this blog as well.
So why have books that don't talk about voiceover?
Well the truth is your success is not dependent on your talent, your voice is not the determining factor as to whether you are successful or not as a voiceover. Of course you need to have a good voice, but lots of people in the voiceover industry have a good voice.
TALENT ISN'T ENOUGH
In his book, Ego is the Enemy, Ryan Holiday explains that the primary obstacle to success is the idea of success.
It's so easy to dream.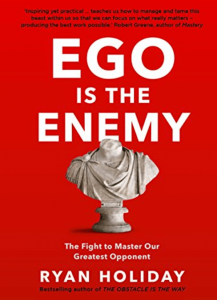 It's easy to tell people about your ambitions. It's easy to create vision boards and write down your goals. It's easy to stand in front of a mirror and declare affirmations.
BUT that's where most people stop. They never realise their full potential.
Most people reading this will end up being mediocre. Mathematically we know that populations of talent exist on a distribution curve, and the majority of people sit in the middle. The middle is mediocre, average, not really successful.
Study after study points to the fact that most talented people don't always make it, they don't because they don't put the hours in. In his 2008 book "Outliers," Gladwell coined the term "the 10,000-hour rule" and posited that it takes 10,000 hours of practice to become an accomplished performer.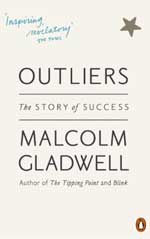 Gladwell in his book missed a vital point though taken from the original research. To truly become accomplished practice alone per se isn't enough. You have to have have 'deliberate practice'. This 'deliberate practice' involves constantly pushing yourself beyond your comfort zone, following training activities designed by an expert to develop specific abilities, and using feedback to identify weaknesses and work on them.
Being a successful voiceover means different things to different people. So, lets define success for a moment because it matters. Most people want to earn money period and enough not just to pay the rent.
Most people want to live their life to its full potential and that means having enough money to take time out to travel, to buy things that matter, to save substantial pot of money to enjoy a retirement that provides a good lifestyle.
The great thing about working in the voiceover industry is that you can earn $200k a year quite easily. When I say easily, I mean that you will have to work intensely and develop your craft – but it is achievable.
Here are the simple numbers:
2 VO jobs per day
Average £300 / $400 per job
4 Weeks Holiday p.a.
Income = £150k / $200k p.a.
VOICE ACTING BOOKS TO HELP YOU SUCCEED
In this simple infographic we've highlighted the 9 elements to master to develop a successful voice over career. These 9 books aren't 9 voice acting books admittedly, but they form the foundation for you to conquer mediocrity and become one of the top percentile that truly do live a life that is successful.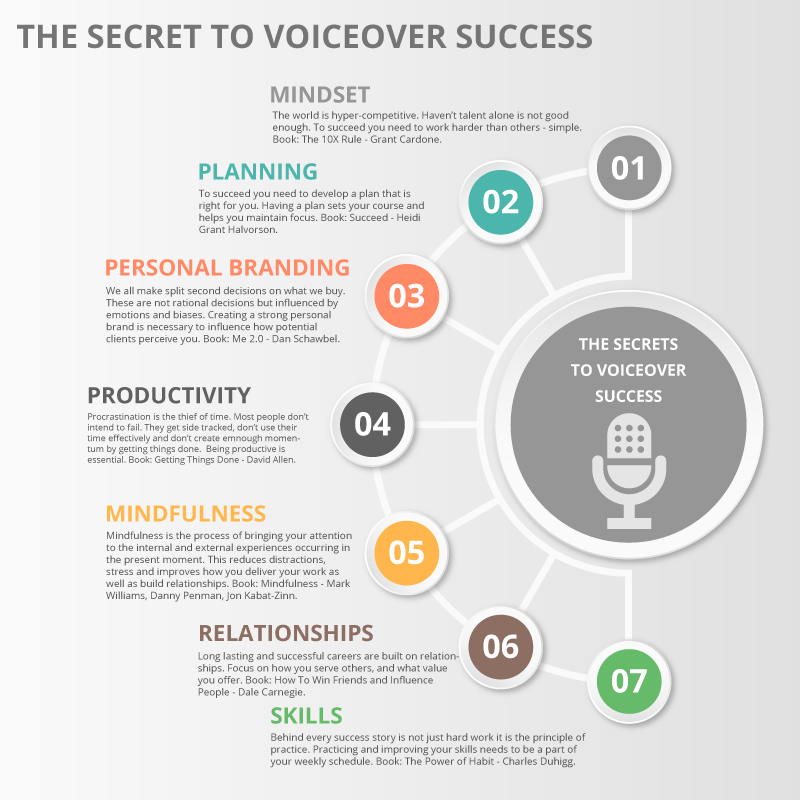 THE SUCCESS MIND SET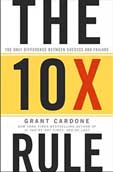 Grant Cardone explains how we underestimate what we can achieve as humans and often shoot for goals that are mediocre. The 10X Rule says to take what you think you want and multiply that by 10.
Now how much time is that going to take? Multiply that by ten too. No matter how much time and effort you think something will take it's going to take a lot more, if you guess 10 times more you will likely be safe. Plan for that.
If you feel fear, you should act, don't let your fear take over what you do. Grant Cardone is a salesman, so when he feels fear he picks up the phone and dials, instead of figuring out what he's going to say and how he's going to react, he can get through 20-30 calls by just acting without thinking, and eventually fear subsides or becomes minimized.
The book also goes into a few mantras for achieving success. These mantras are: success is important, success is your duty, and there is no shortage of success. If success is something you are want then you definitely need to read this book.

PLANNING FOR SUCCESS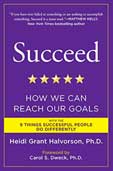 Most of us have no idea why we fail to reach our goals. Dr. Heidi Grant Halvorson, a researcher in the field of social psychology offers useful methods to achieving your goals.
Set a goal so that you will persist even in the face of adversity
Build willpower, which can be strengthened like a muscle
Avoid the kind of positive thinking that makes people fail
The strategies outlined in this book will not only help you reach their your goals, but will give you a new approach to problem solving that will change your approach.
PERSONAL BRANDING TO STAND OUT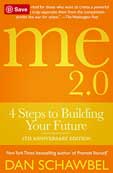 Without question, we live in the most distracted time in human history. People now make split second decisions on you based on perceptions rather than rational facts (Read: Daniel Kahnemann – Thinking Fast and Slow).
You are a brand, therefore you need to develop your brand just as carefully and professionally as any multinational corporate, in fact more so. You have to live with your brand for your entire life.
Me 2.0 by Dan Schawbel covers the essentials of creating your personal brand in the era of the internet and social media. His book covers eight aspects: marketing/branding, networking, human resources, career development, search engine optimisation, social media, entrepreneurship, and public relations.
The book takes you through the steps to not only discover, create and communicate your brand but then effectively manage it. Your brand is your brand reputation and can be destroyed far quicker than it takes to build it.
You need to start building your brand today. Give value to others sincerely, support your network, and see new opportunities come your way. This book will help shape your ideas on how and what value you deliver to clients.

PRODUCTIVITY – STOP PUTTING THINGS OFF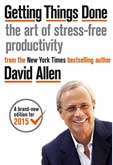 Getting Things Done by David Allen is the bible of productivity. Since it's release ten years ago it has transformed lives, helping people to not just have goals, but turn them into tangible actions.
Rather than doing what many productivity gurus did before him, Mr. Allen decided that approaching your work from a bottom up approach was the fastest way to make yourself more productive as quickly as possible. After "clearing your decks" with your next actions and identifying your projects, it was then easier to recognize your larger life goals and what your life meant. Then you modify your projects to meet those goals.
There are five steps in the process of getting things done: Collect, Process, Organise, Review, and Do. These ideas help you to work smart and as the title suggests, avoid the common traps of procrastination, and get things done. This is the best productivity system because you can always go back to the "basics" of the system to get back to a state of flow in their work and life.
If you want to know a little bit more about the GTD philosophy you should check out episode 254 of the Mac Power Users podcast, "Reviewing GTD with David Allen." David Sparks and Katie Floyd talk with David Allen about this new version of his book and discuss a lot of the philosophy behind GTD and why it works so well for so many people.

MINDFULNESS – LIVE IN THE MOMENT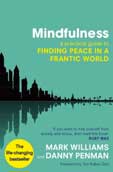 We live in a constantly connected world where the daily pressure sof doing our best, learning new things and keeping on top of the daily necessities can often seem overwhelming. Do you want to stop worrying about life?
Mindfulness is about observation without criticism; being compassionate with yourself. When unhappiness or stress hover overhead, rather than taking it all personally.
The truth is…We all experience the occasional negative thought. But if you always feel overwhelmed, then you need to closely examine how these thoughts are negatively impacting your lifestyle.
The solution is to practice specific mindfulness techniques that create more "space" in your mind to enjoy inner peace and happiness. With these habits, you'll have the clarity to prioritise what's most important in your life, what no longer serves your goals, and how you want to live on a daily basis. Taking control of your mind is not easy and requires practice. But the inner peace and sanity it provides is worth it.

RELATIONSHIPS – BUILD AND INFLUENCE YOUR NETWORK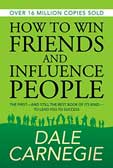 Dale Carnegie's first book is a timeless bestseller, packed with rock-solid advice that has carried thousands of now famous people up the ladder of success in their business and personal lives.
Many people have made assumptions about this book without ever opened the cover. The fundamentals of human interaction are timeless and the reason this book has been in print for seventy years is because it works.
Spend some time practicing every single one of the tips. You'll soon find yourself actually conversing with people instead of being making judgements and generally developing better relationships.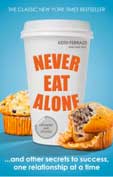 The voiceover industry, like most service industries, relies on building a strong and stable network of relationships. This book can help you master the techniques to do that. Another great book is Never Eat Alone. It takes the fundamentals here and builds them even further, showing you how to assemble a wide group of friends and associates and have healthy relationships with all of them; a really fantastic book.
MASTER THE SKILLS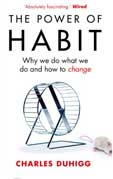 We started this blog recognising that practicing and developing your skills underpins how successful you will be.
Learning and mastery requires practice. Most people have the motivation and desire to develop themselves, but they avoid what really makes a difference, consistent work. Understanding habits and learning how to use them is one of the best ways to make sure you stick to a practice routine and move closer towards mastery.
In this book, Charles explores in great detail how habits are formed, the effect they have in our neurology, and how to use them to your advantage. This is an essential book for to help you learn and master skills.
Another good book to read is The talent code by Daniel Coyle. From the frontiers of neuroscience to the analysis of top performance athletes, this book takes us a deep look at the essentials for developing any skill. The book also reviews us the types of practice to use follow to grow your talent. Although the book revolves around the neuroscience side of learning, the language is easy to understand and the principles are well explained.
SUMMARY OF VOICE ACTING BOOKS
These classic books will help give you focus and improve your approach to developing a successful career. They are all available either as a kindle book or paperback version from Amazon.
There are many more books you could read but start with this simple reading list and take notes and actions from each one. Don't just read the books. All of these books are designed to help you change and take action to improve your work and life.

BOOKS ON VOICE ACTING
They are a few good books on voice acting that are worth mentioning. Many of these are a good introduction and overview of the industry and the types of work available. These books are an ideal way for you to get up to speed with the skills, equipment, industry and provide some solid tips.
The books I mentioned previously, that have nothing to do with voiceover, are more challenging. They involve you questioning how you tackle and master each of the main elements required for success. Remember it is not your talent that is the limiting factor, it is what you with it and whether you push yourself to be successful.

Books on Voice Acting – The Art of Voice Acting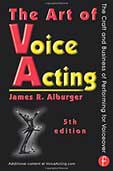 This book on voice acting is written by James R. Alberger. It ideal for those people that are just starting their voiceover career. You will learn how professionals in the voiceover acting industry how developed their careers. It includes tips on vocal warmups, tips for caring for your voice, demos, commercial examples and more. For more thorough and detailed lessons simply become a member of Gravy For The Brain.

Books on Voice Acting – Voice-Over Voice Actor: What It's Like Behind the Mic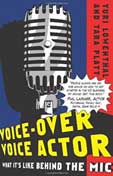 In this book on voice acting, you will get a glimpse into working life of voiceover professionals as they show you what happens on the other side of the microphone. Learn what goes on in the audition process, gain some tips for reading at maximum proficiency, learn some exercises and warm-ups and how to market yourself from creating your demo, getting an agent and getting that job. This book is organised, well-written and very informative.

Books on Voice Acting – Secrets of Voice-Over Success: Top Voice-Over Actors Reveal How They Did It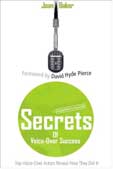 People in the industry looking to see exactly what it takes to become a professional voiceover actor will want to get this book. It is has some good tips as well as stories and experiences of people already in the industry. There is something for everyone and it draws from a large selection of industry professionals.

Books on Voice Acting – More than Just a Voice: The REAL Secret to Voiceover Success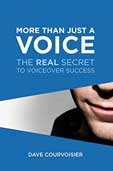 The author of this book, Dave Courvoisier, is an established voiceover and familiar blogger. In this book, you get some practical information and it gives you a clear picture of what is involved in developing a voiceover career. Throughout the book you are taken on a journey from beginning your career as a newbie to some useful tips for more seasoned professionals.
For more information on voice acting visit our series of posts on how to become a voice actor